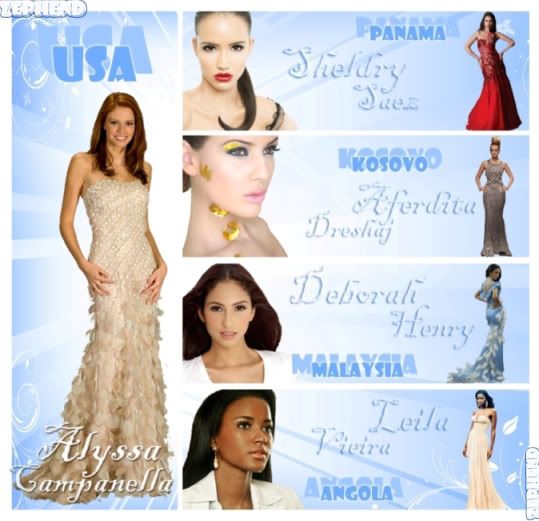 From very beginning, most of us in the US national pageant Love her so much. And she wins, this is a huge confirmation of all her many and exceptional qualities, her beauty is one in a million and her stage presence is commanding being a fashion model at that. I agree with the sentiments of forumers that she is likely to become the new Miss Universe.
Latinas have won the pageant in the last three consecutive years and Sheldry is the region's best hope to keep the title in Latin America. She is fierce, a catwalk diva and commands a great stage presence. No doubt about that...

Aferdita, She has the face of a Goddess and she is one the tallest girl in the competition. Many people said that Aferdita remains to be the most striking European delegate in Miss Universe 2010 "Rozanna Purcell" of this year in terms of beauty, fierceness and appeal.

Deborah has never stopped improving and challenging herself since the day she was chosen to represent Malaysia. she has refinement, class and elegance written all over her and possesses the universal type of beauty of a real modern MU and her arduous training with Ines Ligron shows that she is really here to win it!
The best black beauty in this year. She speaks Portuguese fluently which is a major major major plus come pageant time. and also almost certain that we will hear Angola to be called among the semifinalists, but I guess it's time to have this country in the Top 5.